City of Games October update: Kickstarter live!
Happy Kickstarter launch day!
It's my favourite time of the year as I finally get to share with you everything I have been working on for the past couple of years.
You can find the Race to the Raft Kickstarter here!
Race to the Raft
Race to the Raft is a brand-new game that is based on my learnings from The City of Kings, Vadoran Gardens, and The Isle of Cats.
You don't need to have played those games to enjoy it, but if you liked any of them then there's something for you in Race to the Raft.
The game is a cooperative path building and tile laying social puzzle board game for 1 – 4 players, designed around encouraging lots of team discussions which lead to the empowerment of individuals to make their own decisions.
(If you're familiar with the term alpha gamer, you'll be pleased to know this system of individual empowerment means alpha gaming isn't possible.)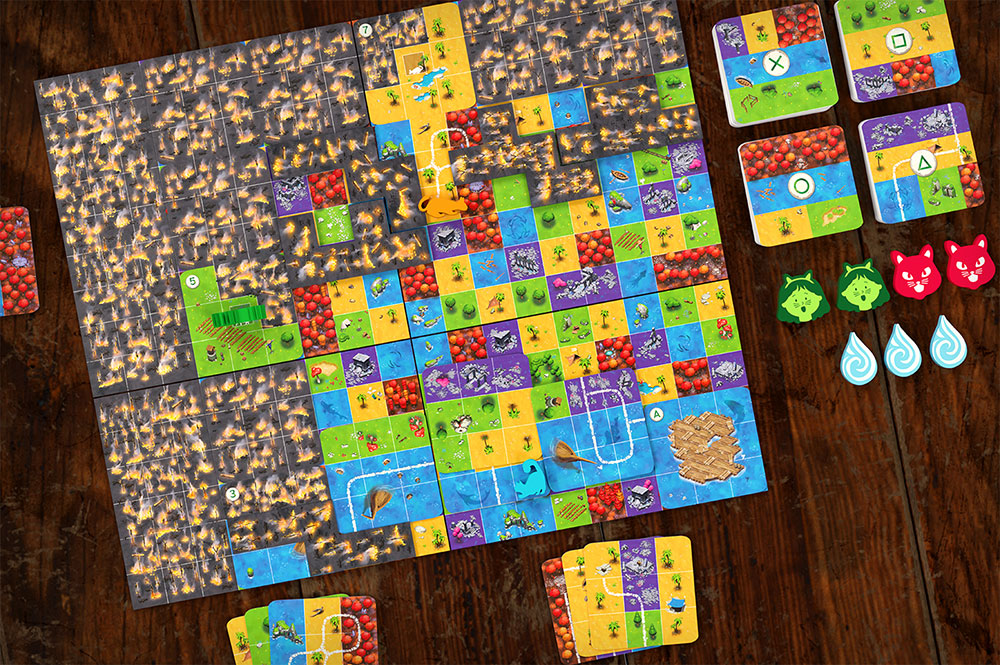 You and up to 3 friends play the role of the feline inhabitants of the Isle of Cats and must race across the burning island to get to safety. Each of the 81 available scenarios offers a unique puzzle where you'll need to work together while placing tiles and building paths as you guide the cats to safety.
If you'd like to learn the specifics then scroll down to sections 8 and 9 where you'll find the rulebook, how to play videos, and full runthroughs.
Race to the Raft and The Isle of Cats Miniature Packs
I am also happy to reveal the new cat miniatures which will be available on the Kickstarter.
You will find packs for both Race to the Raft and The Isle of Cats available!
(If you just want The Isle of Cats Miniature Pack then select the "Create your own" reward – but I recommend checking out Race to the Raft as well!)
Publisher lessons
This month in publisher lessons I discussed the following topics:
An update on Frank
I had a wonderful time at Essen Spiel last week and I'm thankful for everyone who stopped to say hello. It's always a pleasure to meet people and it was great to be back in Germany. The last month has been all about Kickstarter planning but I did manage to enjoy Rings of Power!
Until next time
Kickstarter month is always my favourite time of the year, it's such a wonderful experience and I look forward to this next adventure with you all. Race to the Raft is a game I'm incredibly proud of, it offers a new type of experience I've not found in other games and I look forward to hearing your thoughts once you have had a chance to play it.
I hope to see you on the Kickstarter.
Receive monthly updates by email
If you would like to receive monthly updates from The City of Games by email you can join the newsletter here.
Frank West
Frank West is a gamer and designer based in Bristol, UK. He published his first board game, The City of Kings, in 2018 and now works on other games and organising events in the local area. His goal? To design and publish games focusing on immersive themes, fun mechanics and beautiful components. If you have any questions or would just like a chat, feel free to get in touch at any time!