I'm itching to play it again and jump back in.
8 months ago we did our first public playtest for the City of Kings, we had a basic paper prototype and countless pencil sketches. The test went well but we wanted to make some changes before the next test and it ended up taking a very long time.
2 months ago we made a decision that we needed to spend more time on the game, Miguel joined the team and things started to speed up.
3 weeks ago we were ready to show the world (and by the world, we mean our friends) and we arranged several groups of playtests for this last week.
---
---
TEAM PURPLE
First up was Team Purple, we were terrified, it had taken nearly a year to get to this point and we knew things could go horribly wrong. The players arrived and I could feel my heart racing as I started to explain the rules.
It took 15 minutes to go through all the pieces, explain the options and get them ready to begin. I remember asking who wanted to go first, wondering if anyone would even understand what to do?
The first turns went OK, there were a couple of questions but the game started to flow, in fact… Suddenly an hour had gone by? And then another… Team Purple lasted for 2 hours 10 minutes before the game finally beat them.
I remember thinking 'that was fast' as all the players started to discuss where they went wrong. Then it hit me, the game didn't fall over – 2 hours of play and things had gone perfectly? I took each player into another room and went through the questionnaire.
THE FEEDBACK
HOW DID YOU FIND THE EXPERIENCE?
I generally don't like cooperative games but I really enjoyed it.
I'm itching to play it again and jump back in.
Personally I thought it was really fun.
I found it easy to get into, the overall experience was really fun.
A GREAT START SO WHAT ABOUT THE LEARNING CURVE?
There was a lot to take in but it got easier.
I knew what we had to do from having played video games, it made it much easier to understand.
When you explained it I was worried but it got easier as I played it.
I think it was fairly easy, the hardest part was working out what we should do (the strategy) rather than the rules.
That's OK, we'll certainly be working on making it as easy to learn as possible but this is a heavy game that's going to be a bit harder to pick up than others. Watching them play there were certainly a few pain points we can improve as the designs are created.
---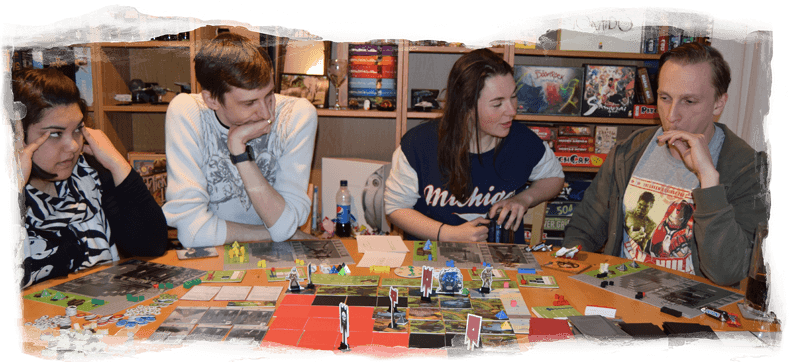 ---
WHAT WORKED WELL?
Having everyone discuss and work together so much.
I liked the workers.
I really liked how we shared resources.
The cooperative part of the game, I've not seen the lack of selfishness in a game before.
Most of the mechanics worked well.
It's the best game so far from a cooperative side of things. It's very hard so you have to work together.
The skill tree.
How different it will be every time, I can see it always being a new game no matter how much I play it.
We're working really hard on making The City of Kings the best cooperative game there is, we've introduced a lot of mechanics to really help you bond as a team and it seems this worked well for Team Purple.
WHAT DIDN'T WORK?
A few bits seemed over powered.
It was hard to get stats.
We need to be able to gain hope.
I'm hesitant about resource cards suddenly taking hoping.
I didn't understand creatures until they attacked me.
Some stuff was unbalanced such as splash and vicious minions, you should limit the number of creatures.
The negative feedback wasn't too bad, we expect the game to be hard and the over powered and unbalanced comments are to be expected. It's going to take several plays to master each ability and how to defeat each enemy. Interestingly, all the players were keen to play again straight away and felt they could beat the game next time which is the response we are looking for.
Since this playtest we have introduced an ability to gain hope, removed the resource cards that take hope and limited the number of vicious minions. So 3 points were addressed before the next team and extremely valuable to the games refinement.
WAS THERE A POINT WHERE YOU WERE BORED OR FED UP?
No, no, nope and nope! All the players felt the time went extremely quickly.
It is proper cracking. I'd play it again.
HOW WOULD YOU DESCRIBE THE CITY OF KINGS TO A FRIEND IN ONE SENTENCE?
A strategic cooperative game which gives you a chance to work properly as a team.
It feels like you actually work together. We were always talking, there was no silence.
It is a video game in a board game. It's different every time.
Like World of Warcraft the board game.
WHAT GAMES DOES IT REMIND YOU OF?
Diablo
Borderlands
Eclipse
Dungeon Saga
World of Warcraft
Dead of Winter
Everquest
A lot of videogames, but that was expected as this team was made up of several video game players.
---
---
ANY SUGGESTIONS?
Remove hope from resource cards.
Switch player and creature turn order.
Reduce the range of splash.
Allow us to gain hope.
Change some of the names of the quest givers, I didn't understand who they were.
Many suggestions were solutions to the negative feedback and have been addressed. Switching the player and creature turn order is an interesting idea but would make the game much more challenging. The current turn order stops a creature from being able to instantly kill you when it is discovered and this is a critical part of the game to avoid uncontrollable deaths.
FINAL THOUGHTS?
I wasn't sure if I would like it, it's down to my taste and I really adored it and would buy it.
It is proper cracking. I'd play it again.
It's one of the funnest games I've played.
It's amazing how polished it is.
I think these speak for themselves.
SUMMARY
We were really happy with how the first run through went, everyone had loads of fun and were keen to come back and play again. In fact, it only took 2 days for them to arrange another session.
There were a few minor issues which were easy to fix but the game held up and the balance was about right. We don't want players to win first time, getting 40 – 60% through the game first try is a great target, it will be interesting to see how the next session goes.
Next up, Team Ginger!
Frank West
Frank West is a gamer and designer based in Bristol, UK. He published his first board game, The City of Kings, in 2018 and now works on other games and organising events in the local area. His goal? To design and publish games focusing on immersive themes, fun mechanics and beautiful components. If you have any questions or would just like a chat, feel free to get in touch at any time!