The first public play test
Sitting alone in a room, I await the sound of the doorbell as the first group of testers are about to arrive. Months of hard work, were they all for nothing? I fear what might happen, but I know this is the only way forward and tonight I will learn a lot.
THE GAME IS SETUP READY TO GO
I'm not ready to test rulebooks or setup guides, tonight is about the mechanics, the raw game play and whether a group of players will find the game fun.
---
---
THE TESTERS
For the first test I invited 3 people, 1 from each of my target audiences:
Experienced board game players who are used to long games.
Experienced board game players who are used to quick games.
Experienced video game players who don't have much board game experience.
As they start to arrive I keep them in another room in order to do a big reveal for the full group, they arrive and we are good to go.
INTRODUCTION
I wanted to keep the evening fun but started with the usual steps:
A quick introduction to play testing and the purpose of the evening, inviting people to speak freely and to try to pretend I wasn't there.
The 1 minute story, setting the scene of the game, revealing their roles and setting their goal.
10 minutes explaining what each of the pieces were and running through the rules, as at this point they are not written up.
KEEPING TRACK
Throughout the evening I kept track of key events such as when players levelled up and when each new round began. Here are my notes and some of their comments.
18:50 – GAME PLAY BEGINS, ROUND 1
---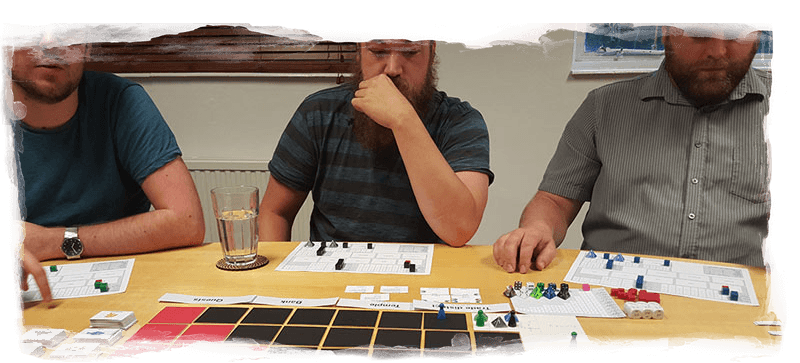 ---
19:10 – ROUND 2
Reach level 1
19:30 – ROUND 3
It became clear the treasure tiles weren't working well, perhaps the most problematic area of the game.
A few UI problems noted:
Showing current/maximum health
How abilities are decided from quests
The naming of "splash" wasn't thematically correct
19:50 – ROUND 4
The process of completing a quest needs to be made clearer.
20:10 – END OF ROUND 4
Quick break and initial feedback
"Incredibly hard but not impossible"
"Resources are too limited but we've found a strategy and it seems to be working"
20:15 – ROUND 5
"Wall" isn't a good name and was causing confusion.
Is fire too hard? There was some debate as it is difficult but can be avoided with a strategy.
The treasure tiles discussions kicked off again, they really weren't liking how they worked.
20:30 – ROUND 6
Reach level 2 – It has taken a long time to get to level 2, but they've enjoyed themselves and no one commented on it.
"We should be told that we can't get linen until we get to the harder zone"
20:50 – ROUND 7
21:00 – ROUND 8
21:05 – ROUND 9
The rounds really sped up here as they implemented their big strategy.
---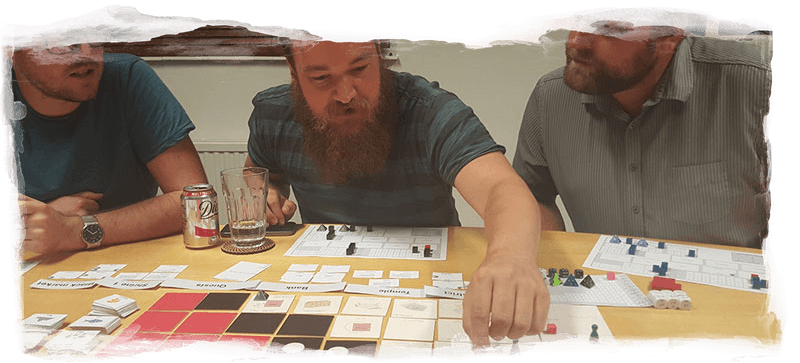 ---
21:10 – ROUND 10
21:15 – ROUND 11
21:25 – ROUND 12
2.5 hours in and they are still in the start area, I'm starting to wonder how long it will take, will they get bored?
21:30 – ROUND 13
Reached level 5 – They are now levelling at a much better rate as their big strategy pays off.
21:45 – ROUND 14
The worker area of the character sheet was confusing at times, causing the testers problems.
21:55 – ROUND 15
Reached level 6
"It is becoming hard to understand how many resources we have and a little bit messy"
22:10 – ROUND 16
22:20 – ROUND 17
They ran out of fire tokens, the prototype will need more for the next test.
22:40 – ROUND 18
"Creature cards need to be bigger and include the ability tokens"
22:50 – ROUND 19
We decided workers should be able to escape a creature tile if your character is present.
22:55 – ROUND 20
I noted that research was hardly being used, they didn't like their options so ignored them.
23:05 – ROUND 21
Found the occupied city!
The final battle is not yet implemented so at this point we ended the game.
---
---
MY INITIAL THOUGHTS
I can't begin to explain the feeling I had when the game came to an end, after months of development the first play test went perfectly. 3 testers played for over 4 hours and at no point did the game fall over. They cheered, they screamed, they walked around the table discussing strategies and enjoyed the entire experience.
The game worked beautifully and I was proud of what we had created.
THE FEEDBACK
The tests may have gone well but there is still plenty to do, I took each player into a separate room and asked for their feedback. Here are the key points along with my initial thoughts.
HOW DID YOU FIND THE EXPERIENCE OF PLAYING THE CITY OF KINGS?
It was a good concept
It was a good game
The game really encourages cooperation.
The treasure stuff needs re-working.
It took a long time to play.
Collecting resources was slow.
The deterministic combat is very cool.
Research seemed slow.
Combat feels good, it is simple to understand.
Really caught the MMO feedback loop, giving immediate feedback to actions.
A very enjoyable experience, more impressive than I expected.
I am very happy with this initial response, I can tell treasure tiles and research need some work but overall it is great first feedback.
HOW DID YOU FIND THE LEARNING CURVE?
Once you have levelled a couple of times there isn't much learning to do.
The game is about making the right decisions.
It was quick compared to the time spent playing the game, hard but intuitive.
The mechanics were straight forward.
Seeing the board setup made the game very clear.
Perhaps transparent cubes would help make things easier?
It started a little steep but the mechanics are simple.
The creature abilities were the only thing to need re-checking.
Similar to some video games I've played before.
Once people had grasped the game there were very few questions, I think the initial setup guide will take some work getting it right but this is positive. The video game crossover was picked up on by 2 testers and that gives me hope all my target audiences will understand the game.
---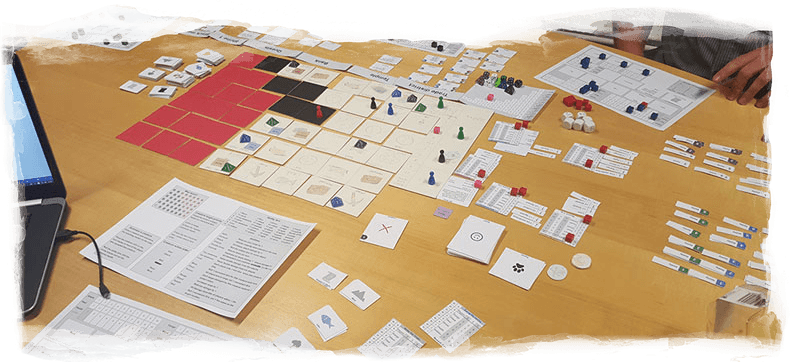 ---
WHAT WORKED WELL?
The ways characters level
Worker management
The quest were fun.
The exploration mechanic made the game tense and forces us to think collectively.
The way monsters build themselves is very cool.
Combat feels good.
The cube mechanic gave me positive feedback about my actions.
Turns worked well.
It was very different to what I've played before.
Actioning creatures made me feel like I had things to do when my own options were limited.
The life tracker worked really well.
Most of the big mechanics were seen in a positive light, it's a shame equipment and research didn't make the list but happy combat, worker management and quests are working well. It is also positive people felt like they had to work together, as TCoK should be a very cooperative game.
WHAT DIDN'T WORK?
It all worked! Perhaps the game was a bit too long?
Resources were slow.
There weren't many items at the end of the game.
The treasure tile.
Putting monsters together is fiddly (this is more a UI issue than mechanics).
There were too many different shops.
Workers seemed a little limited as they couldn't do things at times so made them pointless.
Characters felt a bit generic, perhaps they should bulk up at some point.
Research didn't seem great.
I am disappointed research didn't work well and will be working on this. The treasure tile needs a complete re-work but this is minor in the scheme of things. In general the non-working aspects aren't too major but have given me a lot to think about.
WAS THERE A POINT WHERE YOU GOT BORED OR FED UP?
Nope, just sometimes frustrated!
No, it was consistent.
Time wise just before the end I started to suffer from exhaustion but was still having fun.
I think this speaks for itself, very happy with this!
IN THE CITY OF THE KINGS YOU CONTROL THE ENEMIES, HOW DID YOU FIND THIS EXPERIENCE?
---
---
It worked well.
It seems good, positive and becomes very strategic.
You had to think about goals and how to kill things.
It was mostly good, the lack of move seemed odd but thematically made sense.
This is a specific question I am asking as the creature control is unique in TCoK and I'm looking for any negative experiences it might cause, so far all looks good.
IS THERE ANOTHER GAME THE CITY OF KINGS REMINDS YOU OF?
World of Warcraft – you can tell is had MMO influence
Mage Knight – A cooperative version
Carcassonne
Dead of Winter
Aspects of Boss Monster but in reverse
Diablo
Some great compliments in the list and not far off what we are aiming for.
HOW WOULD YOU DESCRIBE THE CITY OF KINGS TO A FRIEND?
A mini version of DND with dungeon crawlers and worker placement aspects.
A cooperative fantasy adventure.
A strategic fantasy RPG
DO YOU HAVE ANY SUGGESTIONS TO IMPROVE THE GAME?
Speed up the process of gathering resources.
Perhaps vary the character builds.
Add a 3d presence, but obviously a design step down the line.
Give characters a bonus for being individuals.
Escort quests.
Character builds are something we will need to think about again, we've tried to avoid it but it feels like it is worth exploring again. Escort quests are a great idea!
IN CONCLUSION
---
---
The play test went much better than expected and has given me much to think about. We've already started working through the feedback and understanding the causes for each of the problems our testers experienced.
We'll be making some changes ready for our next test group.
Frank West
Frank West is a gamer and designer based in Bristol, UK. He published his first board game, The City of Kings, in 2018 and now works on other games and organising events in the local area. His goal? To design and publish games focusing on immersive themes, fun mechanics and beautiful components. If you have any questions or would just like a chat, feel free to get in touch at any time!