Refreshing Vadoran Gardens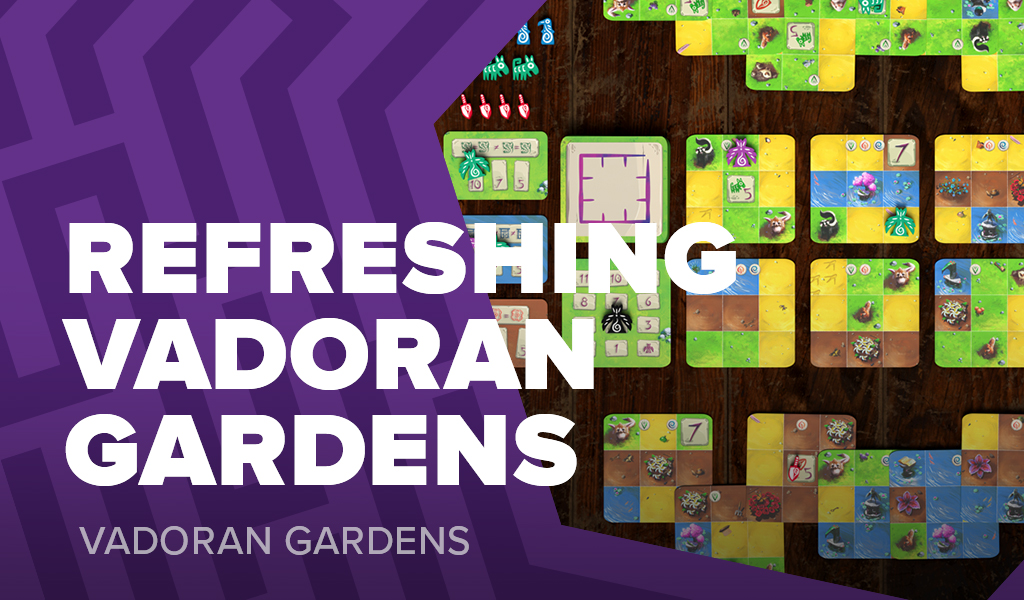 I recently announced Vadoran Gardens Refreshed, an updated version of Vadoran Gardens being released as part of The City of Games festival.
Today, I'd like to take a look at the changes and talk about how Vadoran Gardens Refreshed came to be.
The original goal
I started designing Vadoran Gardens many years ago and back then I had a specific goal in mind. I wanted a short but puzzly game that was very challenging but also cute to look at. I enjoyed games that made you bang your head against the table and was always disheartened by how many of the games that were like that at the time had very dry artwork.
I was very happy with how Vadoran Gardens turned out, it certainly made you think, was quick to teach and play, and ticked all the visual goals that I had set out.
However, since I designed Vadoran Gardens my goals for my games have started to change and this has led to several key changes to the game.
Family friendly
The visual look and feel of Vadoran Gardens appeals to a very wide audience, many of whom are not looking for an extremely puzzly game. While they could easily learn the game, the playing experience didn't match with their expectations of a more relaxed game.
While I expected this to some degree, with my later releases such as The Isle of Cats and Race to the Raft appealing to much larger audiences, it became apparent more and more people expected Vadoran Gardens to be at a similar level as my other games.
The change
Taking inspiration from The Isle of Cats, I have designed a new family friendly set of rules for Vadoran Gardens which offer a much less challenging experience.
When you first open the game you will now be taught the family version of the game first and then afterwards offered advanced rules should you wish to use them.
For those familiar with the existing game, the family version does not use lesson cards and you are no longer restricted in the height of your pathway.
Solo play
Vadoran Gardens is the only game I have released that doesn't have support for solo play. At the time of its designed I tried several different ideas for a solo mode but wasn't happy with them and in the end decided to release it without solo support.
The change
After many years of experimenting I finally found an approach that I was happy with and have introduced it to the game. The solo mode works with the advanced game, is low maintenance, and provides a feel similar to the multiplayer experience.
No more borders
The pathway cards in Vadoran Gardens are made up of 3×3 grids which needed to be a consistent size to work. This led to several issues in manufacturing due to the variance in cutting accuracy so I had to introduce a white border around the cards and between each square to make sure the layout always worked.
It was a simple solution but visually speaking, having large white borders was always my second choice.
The change
Thanks to improvements with my manufacturing processes and learning a lot from Race to the Raft, I have now been able to remove the white edging which creates a much better visual experience.
In conclusion
Vadoran Gardens Refreshed provides the same experience that the original game was designed to offer, while now being far more welcoming to newer gamers and those wanting something less puzzly.
The game is now more accommodating of children and provides a great short puzzly experience for solo gamers.
I'm really happy with how this refresh has turned out and hope that you will also enjoy these changes when the game releases next week.
Frank West
Frank West is a gamer and designer based in Bristol, UK. He published his first board game, The City of Kings, in 2018 and now works on other games and organising events in the local area. His goal? To design and publish games focusing on immersive themes, fun mechanics and beautiful components. If you have any questions or would just like a chat, feel free to get in touch at any time!