The City of Games festival begins on November 21st!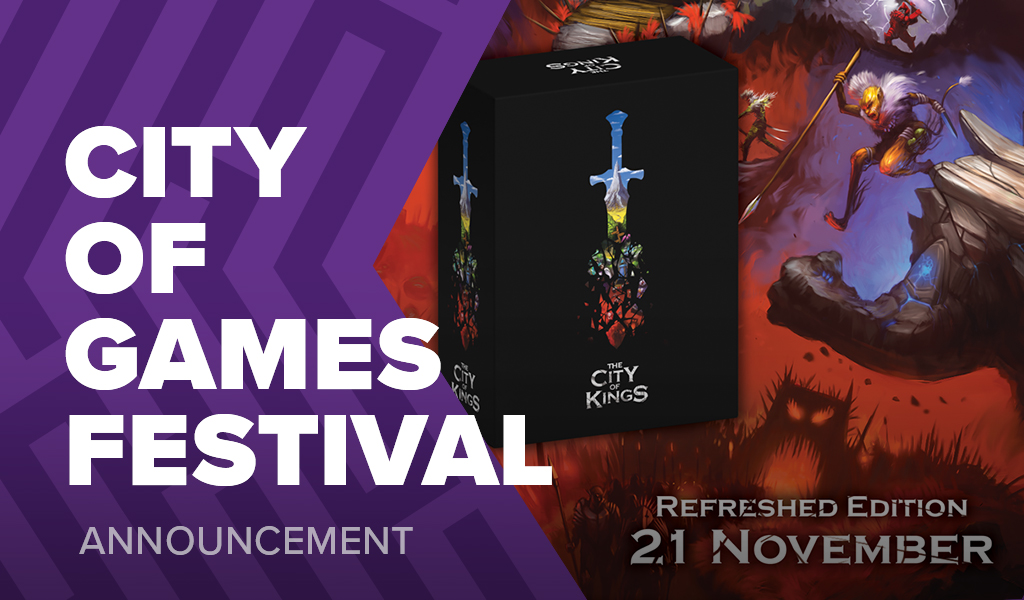 I am pleased to announce the City of Games festival, a two-week celebration of games set to launch on November 21st. Between now and the festival kick-off, I'll be making several announcements. If you're a fan of any games from the City of Games, there will be something for you.
On November 21st, all the new items will be made available, including special all-in bundles for all my games.
Sign up for a notification of the launch event here
I can also confirm that all these new items will be available immediately and will be shipped as soon as the order is processed. For the first time for the City of Games, these items will not be crowdfunded.
The return of the king
Five years ago, the first copies of The City of Kings started arriving at doorsteps, marking the beginning of an incredible journey. To kick off the festival, I'm excited to announce that The City of Kings will be back in stock, and it's not just a return… This refreshed version includes several rule updates which I look forward to sharing with you in the coming days.
Additionally, all expansions ever made and all the accessories that make up the deluxe edition will also be available. And for those who already own The City of Kings, there will be a small upgrade kit available.
What's next?
Curious about what's next? I'll be posting daily updates on Facebook, X (Twitter), Instagram, Blue Sky, and this news feed, announcing new things for some of my other games and diving into the details of this refreshed edition.
If you'd like to receive notifications when everything is available, you can sign up here.
I'm looking forward to sharing more with you tomorrow!
– Frank
Frank West
Frank West is a gamer and designer based in Bristol, UK. He published his first board game, The City of Kings, in 2018 and now works on other games and organising events in the local area. His goal? To design and publish games focusing on immersive themes, fun mechanics and beautiful components. If you have any questions or would just like a chat, feel free to get in touch at any time!