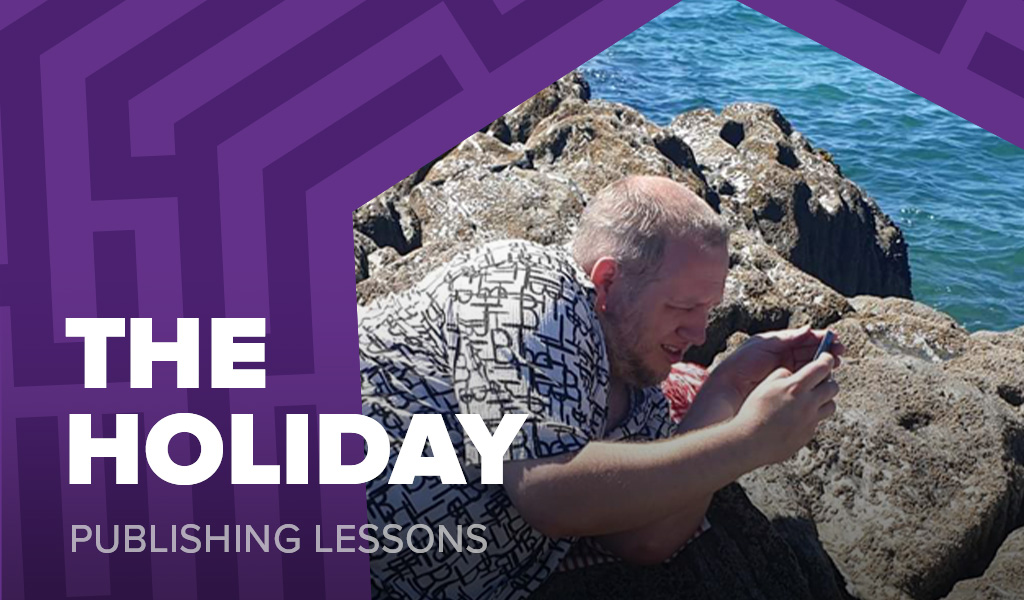 Last week I had my first real holiday for as long as I can remember. I have done plenty of travelling and feel very lucky in how much of the world I've seen in the recent years, but it's always been for work purposes, primarily conventions.
To just go somewhere with Sara to enjoy ourselves while having no commitments during that time was fantastic. We rented an apartment in a small beach town and enjoyed several days of swimming in the ocean, (basic) rock climbing, and exploring rock pools.
Planning
As a one-man company I can never just switch things off for a few days, even during the weekends I like to keep on top of messages and emails so five full days away? I had to have some sort of plan.
I started by making sure my to-do lists were cleared, I worked extra long hours in the days prior to leaving and by the time we got in the car only new issues would need dealing with.
I then made a rough plan for what issues I expected to come in and on what days.
For example, during last week I was going through the sign off process for several new translations of The Isle of Cats and pausing things for a week wasn't viable as it would delay the print. Instead, I made the assumption I would receive the relevant emails and files on the Thursday afternoon and would need about 2 hours to process them.
There were plenty of other things to plan around, but most weren't as urgent and whether I responded within 12 hours or 24 hours wouldn't make too much difference.
Low impact hours
I like to consider 2 things while on holiday, the enjoyment of the people I am with, and my own happiness. It's important everyone is having a good time and whenever I need to sacrifice some of my own time, it is important it has the lowest impact possible on the people I am with.
To achieve this, I planned my working hours for the holiday around the impact they would have on Sara. I also made sure that when the working hours were over, I did not look at my phone, check messages, or browse social media. Unlike being at home where I might check things here or there, on this holiday the non-working time was strictly offline time.
I decided to get up early each day we were away, apart from the Thursday and the last day, and get as much done as possible before Sara would wake up. I allocated 2 hours to each morning, and it was a great way to keep on top of things without impacting our time together.
On the Thursday, I planned to work in the late afternoon and to accommodate this Sara and I got up early and enjoyed the morning together. We planned several high energy activities for the morning, had a large lunch (typically we eat larger meals in the evening), and then Sara could have a rest and refresh for evening activities, while I worked in the afternoon.
On the last day, I simply made the decision to work late after we got home and it had no impact on the holiday itself.
A pleasant bonus
Despite the fact this was a non-work related holiday, both Sara and I are always thinking about our games and new things we can try.
With our currently unannounced game having a link to the ocean, we both thought it might be a good opportunity for a photoshoot and agreed to take a prototype box of Project Smoke with us, just in case.
On the first day at the beach, we noticed a long line of rocks going far out into the ocean. Usually we would just look and move on without thinking much of it, but this time around we both thought there could be a good place for a photo out there.
We decided to plan a rock climbing trip out into the ocean for later in the holiday and see if we could get a good shot. This resulted in us spending several hours climbing over rocks, swimming through pools, and really looking at the areas around us. We got a few great photos which I look forward to sharing later but more importantly, we had a great time doing something we usually wouldn't have attempted.
Frank West
Frank West is a gamer and designer based in Bristol, UK. He published his first board game, The City of Kings, in 2018 and now works on other games and organising events in the local area. His goal? To design and publish games focusing on immersive themes, fun mechanics and beautiful components. If you have any questions or would just like a chat, feel free to get in touch at any time!