Creating an original board game
Every year hundreds if not thousands of new games are created and the amount of originality varies greatly. Some games feel like obvious copies whilst others stand out as innovative and exciting.
I often find myself wondering how many other games have the designers played, are the copies accidental or deliberate? It stands to reason if someone has had an idea before then others may come up with the same idea again.
This is a worrying thought, The City of Kings is a huge project and we want to create an original experience, but how can we be sure we do?
PLAY HUNDREDS OF GAMES
Perhaps we will never be sure but we do know playing as many games as possible is a great start. Every week we try to play at least one (and often more) new game and our collection continues to grow.
Rather than focusing on a specific type we constantly vary the games to get a taste of everything. True, we spend a lot of time playing other fantasy games to make sure ours stands out but we also play every other genre and style you can imagine.
OUR STUDIO
The studio features some of our favourite games including Terra Mystica, Eclipse, 7 wonders, Libertalia and 10" to kill.
---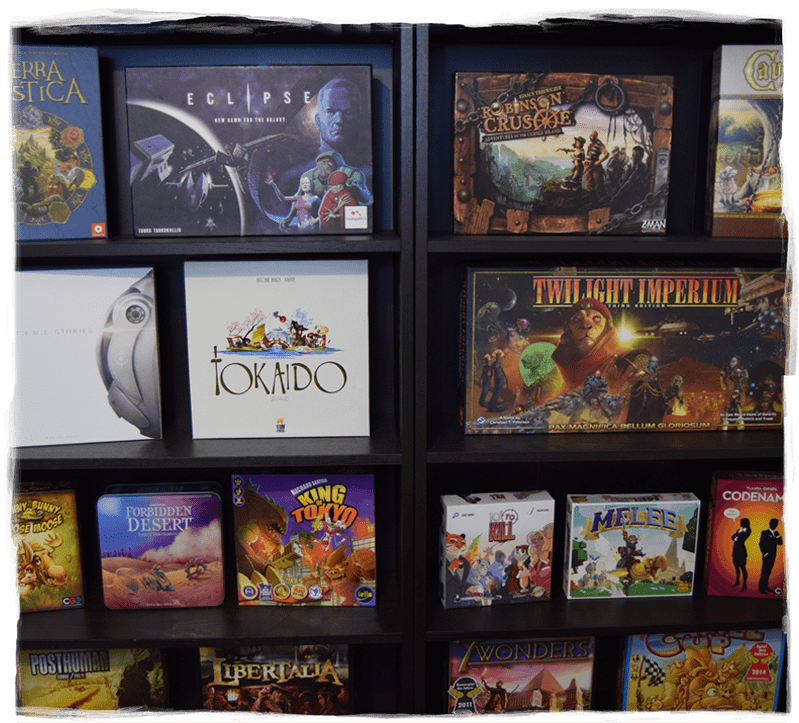 ---
THE SPARE DESK
The spare desk holds our recent acquisitions as we try to work out shelf space and plan playing sessions. Click' Clack' Lumberjack has been a lot of fun whilst Spyfall is as brilliant as people say. Perhaps not surprisingly, Scythe is the next game we plan to test out!
---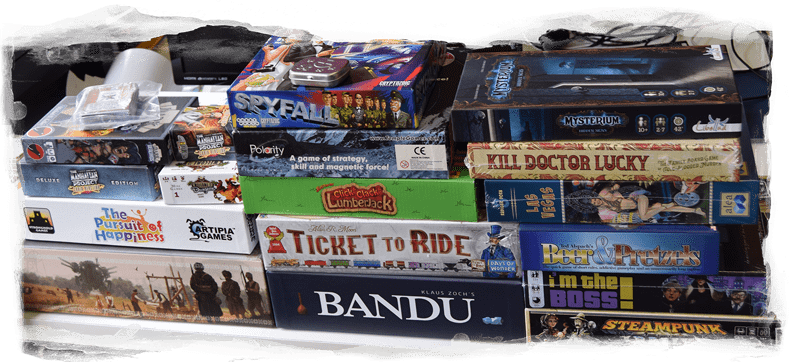 ---
DISPLAY AREAS
We love the look and feel of board games and proudly display them on our shelves, they are more than just a game.
---
---
Our Cool Mini Or Not shelf came to be as we wanted to study Zombicide and understand what made it tick.
---
---
Power Grid, Hive and Garbage Day are shown prominently to give them the credit they deserve.
---
---
Dungeon Petz and Flick 'em Up! are favourites when it comes to Dexterity and Worker Management.
THE REST
There are too many games to run through them all in detail so lets rush through some more of the collection.
---
---
---
---
---
---
---
You can see our full collection on boardgamegeek.com.
IS IT ORIGINAL?
There will always be some similarities with other games and that's a good thing! It will ease some of the learning curve for experienced gamers. But rest assured, The City of Kings has a lot new ideas which we're yet to see in other games and provides a great gaming experience.
As we continue to develop The City of Kings we are confident the game is unique, we know it will stand out in your collections and it is something people are going to love.
Frank West
Frank West is a gamer and designer based in Bristol, UK. He published his first board game, The City of Kings, in 2018 and now works on other games and organising events in the local area. His goal? To design and publish games focusing on immersive themes, fun mechanics and beautiful components. If you have any questions or would just like a chat, feel free to get in touch at any time!