One of the lesser-known parts of running a Kickstarter is just how many people cancel their pledges or decrease from one reward tier to another during the campaign. When you login to see how things are doing, it's not uncommon to see the dreaded red labels.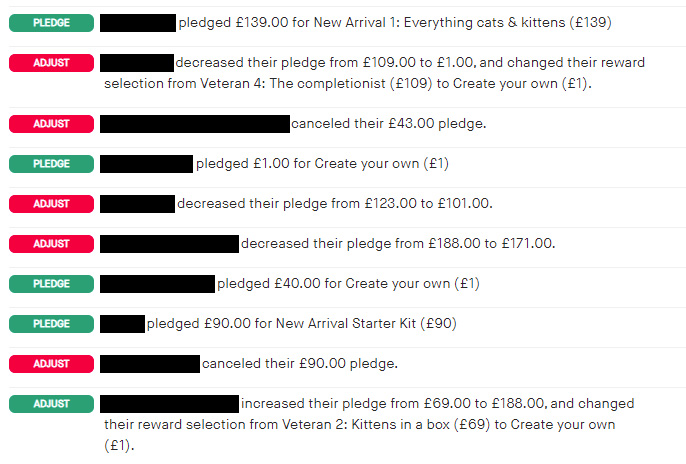 This is perfectly normal and if you're a first-time creator I want to strongly encourage you to avoid looking at it. You're going to have people change their mind and you should stop looking at cancellations as they will only negatively impact your mental health.
How many will cancel?
The Isle of Cats: Don't forget the Kittens! finished with 12,133 backers, yet there were 13,070 backers overall. By the time the project ended, 7% of people had cancelled at some point!
I've seen the cancellation numbers vary a great deal from project to project, 5 – 10% is not uncommon.
June 17th
It's not just cancellations, you'll also have a number of adjustments each day as people change their mind on what they want. I took a look at June 17th (one week before the end of my campaign) to see the numbers:
34 people cancelled, losing £3,272
18 people decreased their pledge, losing £872
16 people increased their pledge, gaining £903
176 people joined the project, gaining £16,242
In total, the day had a gain of 142 people and increase of £13,001
My advice
The only time you should be concerned about cancellations or adjustments, is if your funding stops increasing, starts decreasing, or you see a lot of concerned comments followed by cancellations in your comments area.
Unless there has been an issue, and typically these will become very visible very quickly, just carry on as normal and celebrate the backers who are joining!!
Frank West
Frank West is a gamer and designer based in Bristol, UK. He published his first board game, The City of Kings, in 2018 and now works on other games and organising events in the local area. His goal? To design and publish games focusing on immersive themes, fun mechanics and beautiful components. If you have any questions or would just like a chat, feel free to get in touch at any time!