2021 – A year in review for The City of Games
2021 is nearly over and it has been a unique year to say the least, there have been many changes to the board game industry (and most industries in general) due to the pandemic and this has proved challenging. However, it has also been a year of opportunity, a time to reflect and a time to evolve, which has led to many incredible achievements for The City of Games this year including passing 500,000 sold products across our catalogue.
In this post I'm going to share an overview of the year but first I want to mention something new that you can expect in 2022 for which this post is a starting point. Moving forward this blog will be a place where I share my learnings as a publisher, as a designer, and as a business. I hesitate to expand too much on what to expect just yet as it will be an evolving thing but the goal is simple, I want to help as many others as possible while sharing more of the behind the scenes at The City of Games (you're welcome to post in the comments what topics you would like me to cover!).
February
As a result of the UK leaving the European Union a lot changed with taxes this year and in February I went through the process of signing up for VAT in the EU. This required a lot of research and while time consuming, it also came with benefits such as I can now exhibit at conventions across the EU and I was able to start the process of setting up a warehouse in Germany (which will store stock for our store from early 2022).
March
The global shipping crisis played a major impact on the year and it was in March I first started to see costs rise. Throughout the year prices increased from roughly $4,000 to $30,000 per container and has cost me approximately $500,000 in additional expense, it certainly wasn't ideal and shows no signs of improving for 2022. To date I have not let these costs impact the MSRPs of my games but that may have to change if things don't start to settle through next year.
May
Whenever I announce new products it is an incredibly complex process, I'm never sure what the response will be and as a smaller company it can be make or break. In May I announced a live stream where I would talk about What's Next for The City of Games and I was blown away by the response. With over 200 concurrent viewers it passed my best case expectations by 400% and was easily my most watched stream of all time.
June
June saw the successful funding of my fifth Kickstarter which raised $1,442,535.40 (£1,015,870), a mind blowing amount. While the £1,000,000 mark isn't different to any other arbitrary number, it is a milestone I dreamed about when first entering the industry and it was incredible to achieve this.
Board Game Geek has the largest database of board games in the world containing over 130,000 games and in June The Isle of Cats entered the top 100 games of all time. As a designer this was a goal I never thought I'd achieve, making June a month I'll never forget.
While not a specific event, I also want to mention how incredible the community was throughout May and June. There were so many incredible events (mainly run through the Kickstarter) which saw hundreds of people complete the free colouring cats, download the puzzles, take part in arts and craft, and submit photos of different animals in The Isle of Cats box.
July
In July The Isle of Cats was awarded Best Welcoming Game in the 14th annual Dice Tower awards which I was particularly proud of as helping bringing people into this hobby has always been one of my goals and this helped cement The Isle of Cats as a game that is great for exactly that.
October
In 2020 I started looking into game translations and partnered with a few companies to see how it would go, after some great success with this I continued to team up with publishers around the world and October saw the release of the 15th language for The Isle of Cats.
November
If I am to be honest, digital board games have never been something I have been too interested in but when Covid started back in 2020, the increase in demand for digital play resulted in me trialling several options. While the Tabletopia release happened in 2020, in November The Isle of Cats released on Sovranti and entered alpha on Board Game Arena (and will hopefully release soon).
Interest in The City of Kings has continued throughout the year and it was great to see such a positive reaction to the restock in November. While a few items still remaining out of stock, I do hope to be able to reprint those at some point in 2022.
December
December saw the 13th print start at the factory with combined sales of all products passing 500,000. The Kittens + Beasts expansion releasing in April 2022 has seen an incredible 43,042 pre-orders and Explore & Draw, a physical evolution of the Remote Edition of The Isle of Cats (released due to covid) has reached 30,020 pre-orders ahead of it's April release.
Just 2 weeks ago I finally finished my new games room. The perfect place for researching existing games, playtesting new games, and enjoying the company of my cats as working from home looks to continue into 2022. While this isn't directly related to The City of Games, it is perhaps my biggest source of inspiration and I've lost many hours browsing the incredible creations other designers and publishers continue to make.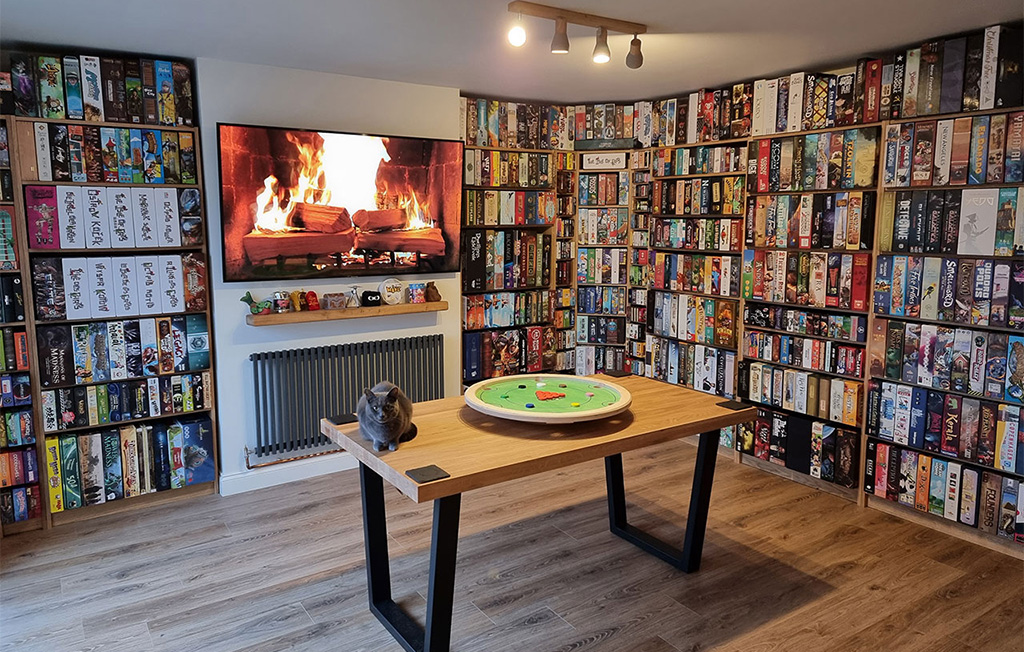 Next year
In 2022 I have 1 unannounced game which I hope to release.
Explore & Draw and the new expansions for The Isle of Cats will be shipping in March.
I plan to release regular articles and videos here on The City of Games website sharing insights into being a publisher.
I hope to be able to return to conventions after missing them (due to covid) for the past 2 years.
I want to make the replacement parts process more obvious. While it's easy for people to get replacement parts should they need them, I'm aware not everyone thinks to look on this website and I will be working to make this more obvious in future prints of my games.
I aim to get to know my community better and will be starting annual demographic surveys from January to get this started and welcome any ideas people have in this area.
My biggest goal is to find ways to grow the community in the right way, to date I have always kept things as organic as possible i.e. If you want to join the newsletter you just need to find the page and fill in the form, and I have restrained from pushing these things more than that. While I certainly don't want to switch this mentality, I do want to make the options more obvious for people wanting to get more involved and will be trialling a number of things in the months to come.
Finally, The City of Games will remain a 1-person company in 2022 with me being the only member of staff. While I'm incredibly grateful for the wonderful people who I get to work with such as artists and editors, I still enjoy being involved in every aspect of the company from design to production, marketing to sales, and support to planning conventions. This year I added 3d design and modelling to my skillset and look forward to seeing what I can learn next.
That's it! It's been an amazing year and I look forward to seeing what comes next, I'm sure 2022 will have it's own challenges but I look forward to seeing how I can overcome them and what will be achieved next.
Frank West
Frank West is a gamer and designer based in Bristol, UK. He published his first board game, The City of Kings, in 2018 and now works on other games and organising events in the local area. His goal? To design and publish games focusing on immersive themes, fun mechanics and beautiful components. If you have any questions or would just like a chat, feel free to get in touch at any time!