Requesting samples from your manufacturer
Making a board game is expensive and once you have selected a manufacturer it is important you have agreed an approach to sampling.
Receiving samples gives you the opportunity to make sure your game is being made correctly, nothing has been missed, and that the final product matches your expectations. You should always manage your schedule to give you enough time to carefully review samples when you receive them, and ideally have other people look over them as well.
Here are the 5 sampling steps that I go through with my games and recommend you request from your manufacturer.
Custom component sampling
If a game has a non-standard component such as a wooden meeple or miniature, I will request samples of the piece prior to starting manufacturing. I want to make sure the components can be made to the levels I want before telling people about their existence.
For example, here is the original Earthshaker miniature sample made prior to the tooling being created.
These types of samples may  have multiple rounds and I usual pay one off fees for the process.
Digital samples
I go through 4 sampling phases during the manufacturing process, the first being digital samples.
Digital samples are PDFs which contain all the printed materials, they have been set to their positions on the printing sheets and have visible cut lines.
I carefully look through digital samples to make sure everything has been included, nothing is out of alignment, and that all the cut lines are in the right places.
I'll count cards, look for ordering errors, duplicates, and cross reference the components list in the rulebook.
Colour proofs
With the digital samples approved, I'll request colour proofs get sent out. These contain the same sheets with the visible cut marks but are printed to sheets of paper.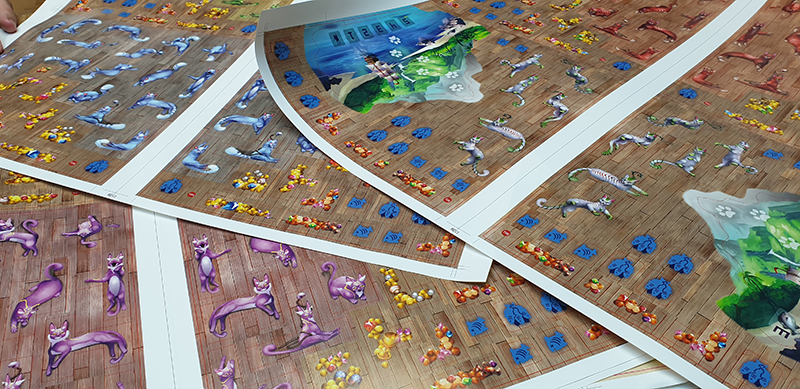 I do all the same checks that I ran on the digital samples and also make sure the colours are as expected. This is the last chance I have to make changes to the files without incurring extra fees as once these are approved the files get printed.
I also like to do one last proofread of everything at this phase, I've not yet found a written error at this point as everything is carefully checked by proof readers before being sent to print, yet it feels like a worthwhile thing to do – Just for the added reassurance.
White samples
Once the digital samples are approved I also request white samples which are exact copies of the final game. All the components match the final components, all the pieces are cut, wrapped, and packaged like the finished product.
The only difference is they are blank and contain no printed content.
I use this opportunity to make sure all the materials are as expected, the sizes are correct, and that everything fits in the box as expected.
Production samples
After the colour proofs and white samples are signed off, the factory will print the games and manually assemble 1 copy. This copy is sent to me as a final check off point before the games are assembled and packed.
If I find any errors at this point then I'll need to pay to have materials reprinted or changed, but it's better to find mistakes now than once the games have left the factory.
Sampling is the best way to ensure your final product is error free, meets your expectations, and does not end up causing you problems. It's a lot easier to fix a problem while everything is at the factory, as soon as your games are in your local warehouses the cost and time to fix stuff will substantially increase.
Frank West
Frank West is a gamer and designer based in Bristol, UK. He published his first board game, The City of Kings, in 2018 and now works on other games and organising events in the local area. His goal? To design and publish games focusing on immersive themes, fun mechanics and beautiful components. If you have any questions or would just like a chat, feel free to get in touch at any time!