My top 8 lessons for new publishers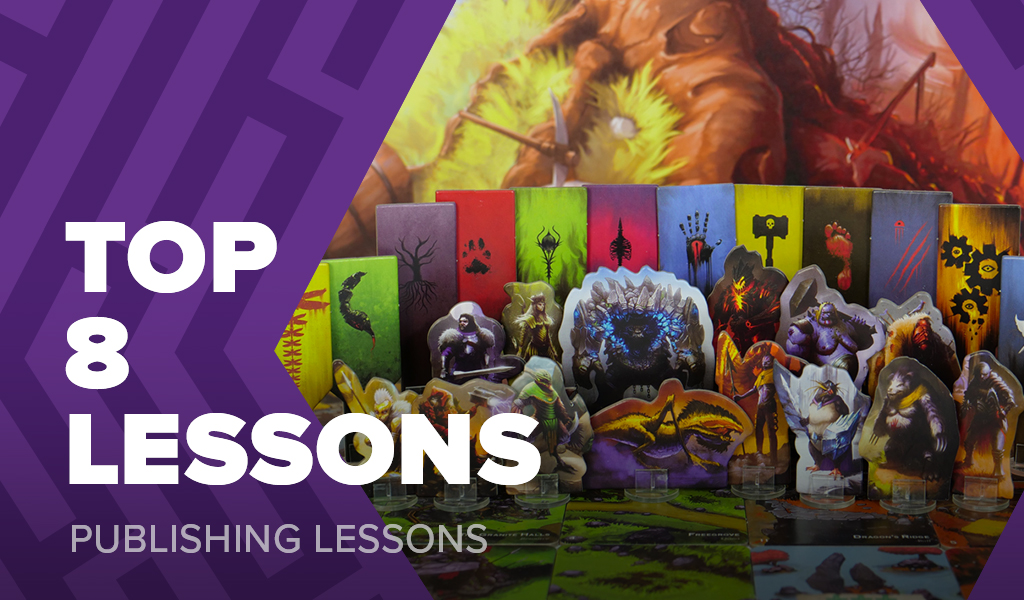 Over the last 18 months I have written over 150 lessons on board game publishing which can be found on this website. They vary in topics from specific tasks to thought provoking ideas and for some people it may be difficult to know where to start.
Today, I would like to highlight 8 key lessons which I recommend to everyone looking to publish their first game. These lessons focus on critical stages of the process and will help you turn your idea into a reality.
Board game manufacturers – How to choose one?
There are many different companies all around the world who will make your games for you and this article covers my recommendations of manufacturers you can trust to get the job done well.
With your games made, you're going to need to get them from China to your storage locations. There are several options for this which I cover in this lesson.
My current approach to Kickstarter fulfilment
Once you have your games, you're going to need to get them to your customers. This is one of the riskiest parts of the process as a small mistake can cost a fortune, that's why you'll want to work with an experienced partner.
When to launch and end a Kickstarter
There are many factors to running a successful Kickstarter and for the best chances of success, you'll want to launch and end at the right time. The first hours are critical to funding and shouldn't be overlooked.
Creating the perfect Kickstarter page: My wireframe
At some point you are going to need to design your crowdfunding page and as this is the first interaction most people will have with your game, you're going to want to get it right. This lesson breaks down the Kickstarter page design process and will cover everything you need to include.
It doesn't matter how good your game is, how big your audience is, or what ideas you have up your sleeves, as a first time creator your Kickstarter goal can be the make or break of your campaign. Here's a detailed approach on how to set your Kickstarter goal for the best chances of success.
This is the first part of a series of lessons talking about how you can grow your audience, it includes over 20 different suggestions for ways you can widen your reach, and will help you discover what will work for you.
Finally, one of the most important decisions you will have make is how much to sell your game for. This number alone can decide whether your business will succeed or fail and should be calculated based on real numbers. Here's my recommendation for working out what that number should be.
I hope these lessons prove helpful for you and help your succeed in creating board games, feel free to explore the different sections of the lessons: Getting started, How to crowdfund, Learning to grow, and I'll keep sharing what I can.
Frank West
Frank West is a gamer and designer based in Bristol, UK. He published his first board game, The City of Kings, in 2018 and now works on other games and organising events in the local area. His goal? To design and publish games focusing on immersive themes, fun mechanics and beautiful components. If you have any questions or would just like a chat, feel free to get in touch at any time!