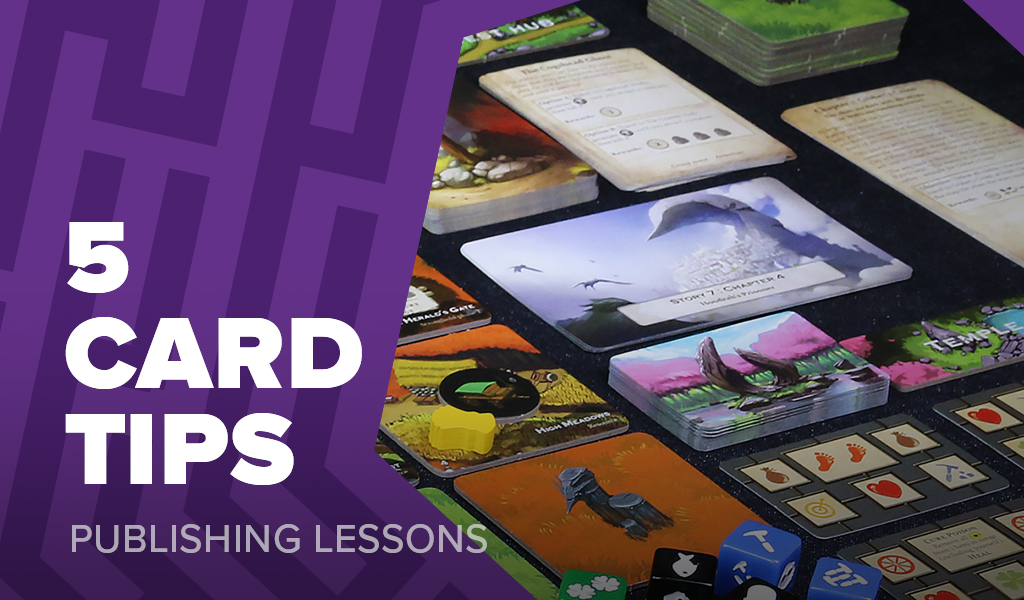 Cards appear in many games and over the years I've learned a number of important things to get the best out of them.
Standard sizes
There are plenty of different sized cards, my manufacturer has over 15 default sizes and can also setup their machines to make cards at any size for a small tooling cost. This makes it very tempting to design cards to be the exact size you need but unless there is a really good use case for it, I wouldn't recommend it.
There is a good chunk of people who like to sleeve their cards in order to protect their games, and card sleeves come it set sizes. If you choose a less common or custom shape, your customers won't be able to sleeve their cards and this may frustrate them.
Personally I like to stick with 70×70, 44×67, 63×88, and 70x120mm cards as I've found sleeves for them are widely available.
Materials
I recently wrote about choosing components for your game and detailed my suggestions for card materials.
When it comes to cards, these are often a component that people will constantly interact with, they will pick them up, hold them, place them, and keep on feeling them throughout a game.
With components people are holding and touching it is very important to use good materials to provide the best experience possible.
Full sheets
Cards are printed on sheets and each sheet can hold a set number of cards. It can save a lot of money to make sure the number of cards in your game aligns closely with the number of cards that fit on a sheet.
For example, with my manufacturer there are 7 sheet sizes for 44x67mm cards, size 2 can hold 70 cards and size 3 can hold 78 cards. This means if my game contains 71 cards I am effectively paying for 7 blank slots, and I would be saving a reasonable amount of money if I had just 1 card less.
As you start refining your game I would recommend reaching out to your manufacturer and asking  them how many cards they can fit on each sheet size for the card sizes you intend to use.
Consistency
My first published game was The City of Kings and I designed the game to use a variety of card sizes. I had large cards for the stories, small cards for skills, and medium cards for most other things. This felt great when designing the game as each game system had its own tailored card size.
The problem is, this also greatly adds to the cost as more of one size card is much cheaper than using multiple sizes.
As an example, if the 28 70x70mm position cards had been 63x88mm, increasing those cards from 156 to 184, it could have saved me $0.2 per game.
With how the position cards work I really enjoy them being on square cards, but if I had understood the costs implications at the point of design, I may have considered other options.
Other options
Speaking of other options, cards are wonderful things that can be used for nearly anything, but that doesn't always make them the best choice.
For the story element of The City of Kings I wanted the stories to appear chapter by chapter and felt cards were a great way of achieving this. As you progress through the game you take the next card and it reveals new information with no chances of spoilers as each card is self-contained.
While exploring a new game and wanting a similar system, it became apparent to me that 60 70x120mm cards is a similar cost to a 60 page booklet measuring 200x160mm.
In this case the booklet would allow an entire page per chapter, meaning the text could be a larger size and there is more room for artwork and decoration.
Is a booklet a better option than a card? It depends on the situation, but from a cost perspective it allows for much more information at a cheaper price point.
I hope this helps you optimise your game cards and I'd love to know if you have any other advice for people looking to use cards in their games?
Frank West
Frank West is a gamer and designer based in Bristol, UK. He published his first board game, The City of Kings, in 2018 and now works on other games and organising events in the local area. His goal? To design and publish games focusing on immersive themes, fun mechanics and beautiful components. If you have any questions or would just like a chat, feel free to get in touch at any time!