The mid-campaign turnaround!
It's hard to believe the Kickstarter for The Isle of Cats has now been live for 2 weeks and we are half way through the campaign.
Thank you to everyone who has backed the project so far, it means the world to me!
The mid-campaign turnaround!
Let's jump straight into it, the middle of a Kickstarter is normally the quietest time but as I like to do things a little differently, today I'm going to ask for your help, and in return I'm going to be giving you a little something to say thank you!
As you know, there are no stretch goals on the Kickstarter, I believe everything should be included to provide the best possible end result without requiring financial goals to be reached… However, that does not mean I can't just add something extra once in a while does it?
How you can help
This update will be the only one I send during this Kickstarter where I will ask you to help share the project, and there are several things you can do:
1. Please like and share this post on Facebook.
2. Please like and retweet this tweet.
3. Please thumb and comment on this post on BoardGameGeek.
4. In 1 hour, I'll be on reddit.com/r/boardgames/ doing an AMA, please drop by and ask questions!
5. Anything else you can think of! Post in your favourite Facebook groups, on your favourite websites, and spread the word.
If enough of us work together and do this today, then our shared voice will be loud enough to skip over the quiet time and I will be forever grateful for your help.
What you get?
Today I am adding 2 new things to the Kickstarter and anyone who is getting the Kittens + Beasts and Boat Pack expansions will get them included for free.
To be clear, this is not a stretch goal, everything is being added no matter what happens, the request above to help share is 100% optional.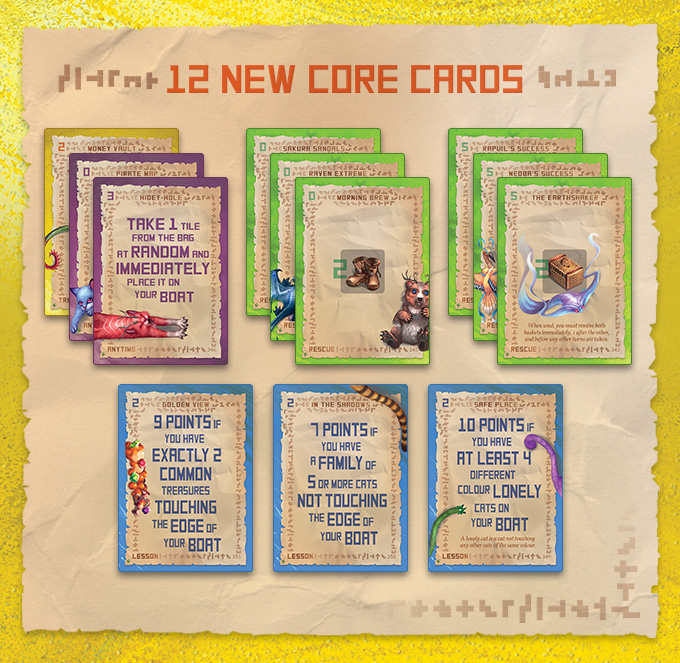 These 12 core cards will be added to Kickstarter Pack 2, you can add them to your deck of cards and they will never need to be taken out.
What they do
Lesson: Golden view – This card limits the treasures you can have around the edge of your boat introducing a "should I place this treasure here now or wait until later" decision to the game.
Lesson: In the shadows – This card forces you to grow a family away from the edge of your boat, which will leave some complex spacing issues.
Lesson: Safe place – This card rewards you for lonely cats but will leave you wondering when to take the next one.
Rescue: 2 boots – These 3 cards require 0 fish and give you 2 boots, they are great for snatching first in turn order from other players.
Rescue: 2 baskets – These 3 cards require 5 fish and give you the opportunity to rescue 2 cats with one card. This means you will get to rescue 2 cats in a row (just like the anytime card) making it very powerful if you can afford it.
As there are now more cards and cat tiles thanks to the Kickstarter Pack, the 2 anytime cards will help you get more tiles and cards during the game.
There is also 1 treasure card for balance purposes.
I'm really excited to introduce these new rescue and lesson cards, they add a lot of great decisions to the game and are perfect for creating some tense moments.
For the past year, I have been working with Sovranti to create a digital implementation of The Isle of Cats and it's nearly there, in fact the family version just went live! I expect the standard game to be released within the month and solo wont be far behind.
How it works
About 1 month after the Kickstarter ends I will send you a code that will grant you 12 months premium access to The Isle of Cats on Sovranti. This will allow you to create games and let your friends and family play with you for free.
The platform is cross device (mobile/tablet/pc), has all the rules built in and even does scoring for you. It's the perfect way to play the game on the go or with friends over the internet and automates everything you would want including snapping tiles to the grid.
As a bonus, you will also receive 3 months premium access to every game on Sovranti so you can try out the platform and its other games.
A note on Sovranti
Sovranti is brand new platform for playing board games online, they already have a few games including Planet Unknown, Forbidden Desert, and Point Salad, and more will be released soon. I believe it is a fantastic platform and their approach to providing automated digital boardgames is great. I'm very pleased to have partnered with them on this and you can check out the platform here.
That's it!
I hope you enjoy the new cards and I would be incredibly grateful if you could jump back to the sharing section and spread the word. I'll be happy to answer any questions you have about Sovranti in the comments below and I hope you all enjoy this mid-campaign turnaround!
– Frank
Frank West
Frank West is a gamer and designer based in Bristol, UK. He published his first board game, The City of Kings, in 2018 and now works on other games and organising events in the local area. His goal? To design and publish games focusing on immersive themes, fun mechanics and beautiful components. If you have any questions or would just like a chat, feel free to get in touch at any time!