We love playing games and with the release of Pokémon Go we thought we would organise a special event in Bristol this weekend!
Join the Pokémon Go 100 lure adventure!
SATURDAY 23RD JULY
Join us this Saturday as we adventure across Bristol playing Pokémon Go!
We will be stopping at 4 locations, passing 60 Pokéstops and plan to place 100 lures throughout the day so come along and join us on the adventure!
The route has been specifically chosen giving you the best chance of finding some rare Pokémon, along this path we have seen:
Charmander, Bulbasaur, Squirtle, Pikachu, Onix, Voltorb, Dolduo, Abra, Meowth, Mankey, Geodude, Exeggcute, Eeve, Aerodactyl and Omanyte, can you catch them all!
---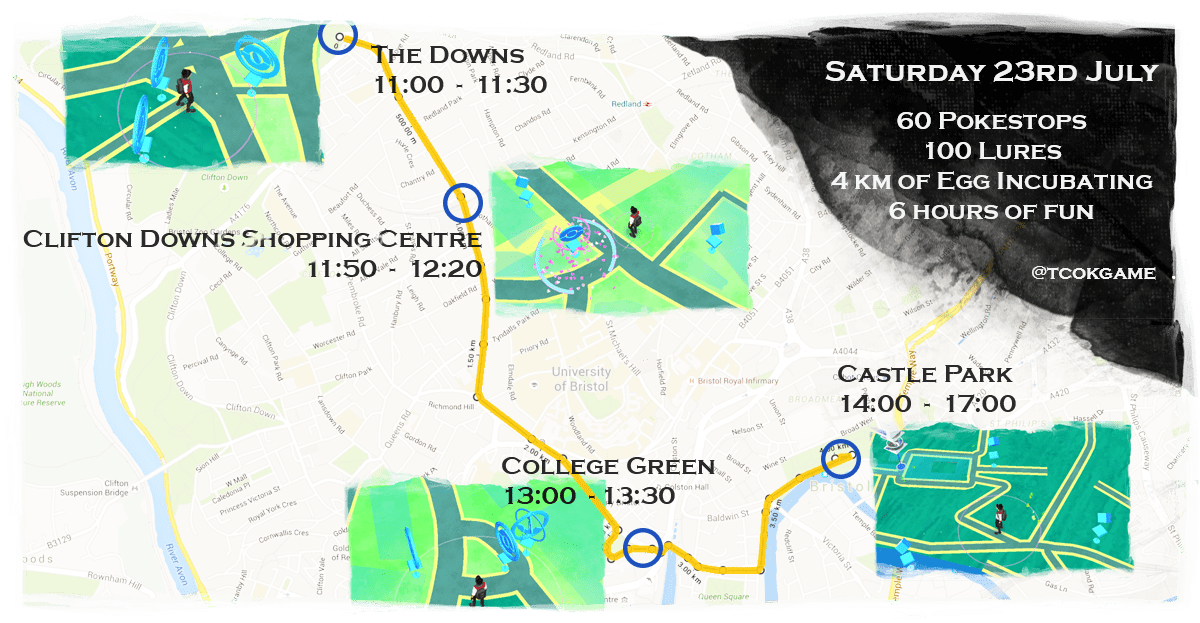 ---
SCHEDULE
The Downs: 11:00 – 11:30
Walking: 11:30 – 11:50
Clifton Down Shopping Centre: 11:50 – 12:20
Walking: 12:20 – 13:00
College Green: 13:00 – 13:30
Walking: 13:30 – 14:00
Castle Park: 14:00 – 17:00
We hope to see you on Saturday!
Frank West
Frank West is a gamer and designer based in Bristol, UK. He published his first board game, The City of Kings, in 2018 and now works on other games and organising events in the local area. His goal? To design and publish games focusing on immersive themes, fun mechanics and beautiful components. If you have any questions or would just like a chat, feel free to get in touch at any time!