I recently returned from UKGE, the largest board game convention in the UK and I wanted to share a few of the ideas I had for the booth.
At conventions, I want people to have a good time at my booth, I want to create opportunities for memorable moments, and to remove the expectation of making a purchase. It's a chance to grow my community while bonding with existing community members, sales would just be a bonus.
This year I wanted to try out some ways of creating interactive areas in the booth that were self-serving. Meaning no booth staff were required, people could just walk up, interact, have a good time, and move on at their own pace.
Human setup
The first of these ideas expanded upon the cat setup instructions found in the lid for The Isle of Cats.
I slightly adjusted the wording to relate to humans, and then placed a giant sticker on the floor in my booth.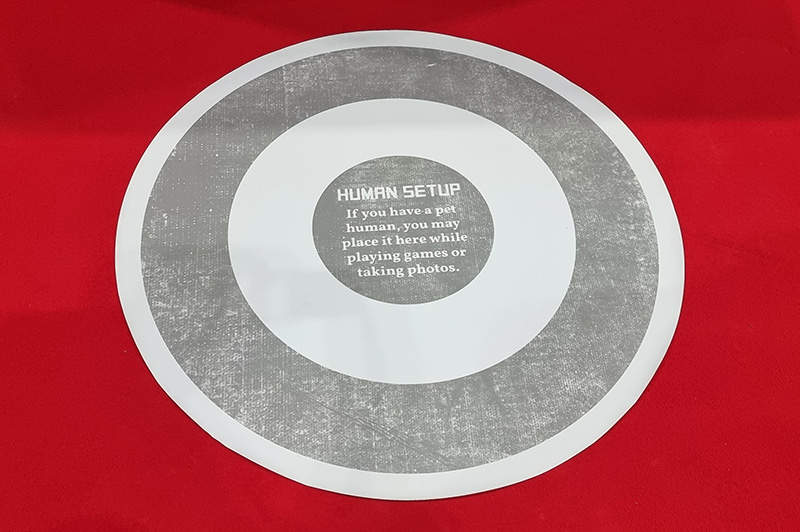 For those familiar with The Isle of Cats it provided a fun moment of discovery, and for those not familiar it gave them a reason to reach out to a staff member to ask for more details.
I also made sure to place the sticker in front of a banner that would make a great background for photos, giving visitors a reason to stand on the sticker, take a photo, and share it.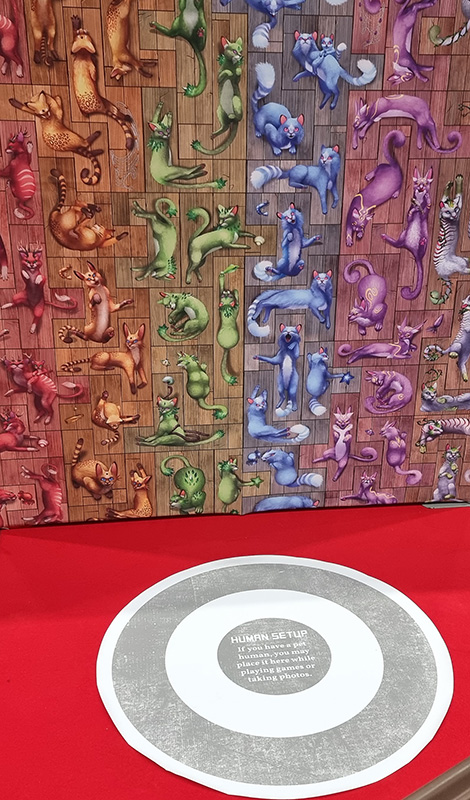 The human setup proved very popular with a lot of people giggling, taking photos, and sharing them on social media.
The colouring station
During my latest Kickstarter for The Isle of Cats I created 6 outlines of cats which were perfect for colouring in.
At UKGE I printed these outlines onto nice paper, provided a selection of colouring pencils, and provided a table and chairs for people to take a break and colour something in.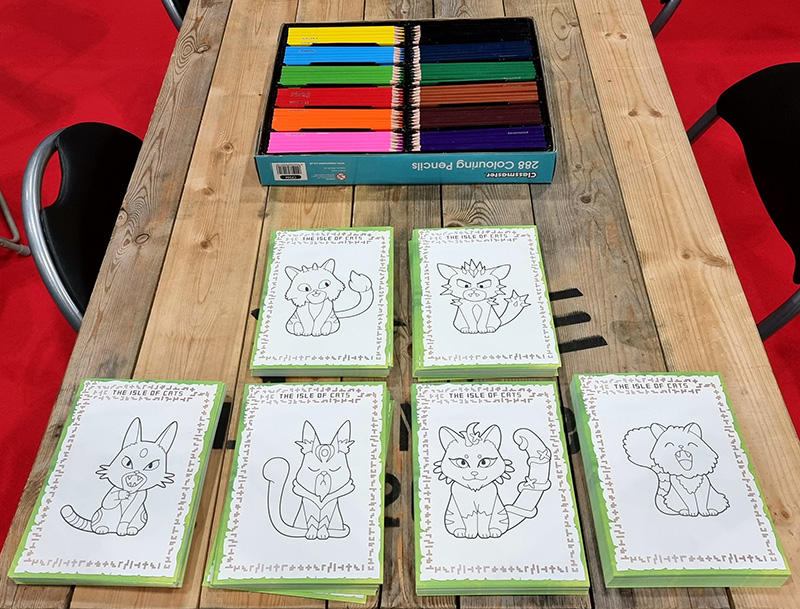 I was unsure how this would play out but it was incredibly popular, we got through over 1,000 colouring sheets during the 3 days at the show and the table was always busy!
It provided people with the ability to have a rest from all the walking while participating in a fun activity that helped get them invested in The Isle of Cats brand. Many of the finished cats were taken home and I've no doubt they are stuck to fridges, counters, and laying on tables all around the country reminding people of the game.
Here's a selection of a few that got left behind:
Play it yourself
Explore & Draw is a roll and write game where you flip over 12 cards multiple times and make decisions based on the selection of cards displayed. You then draw those decisions onto your boat (player sheet) and score points for completing various objectives.
I decided to use this game to create a competition where visitors could come to the booth and compete for the best score.
I printed 6 rounds of cards onto a giant banner and provided a space, player sheets, pens, and rulebooks and left people to it.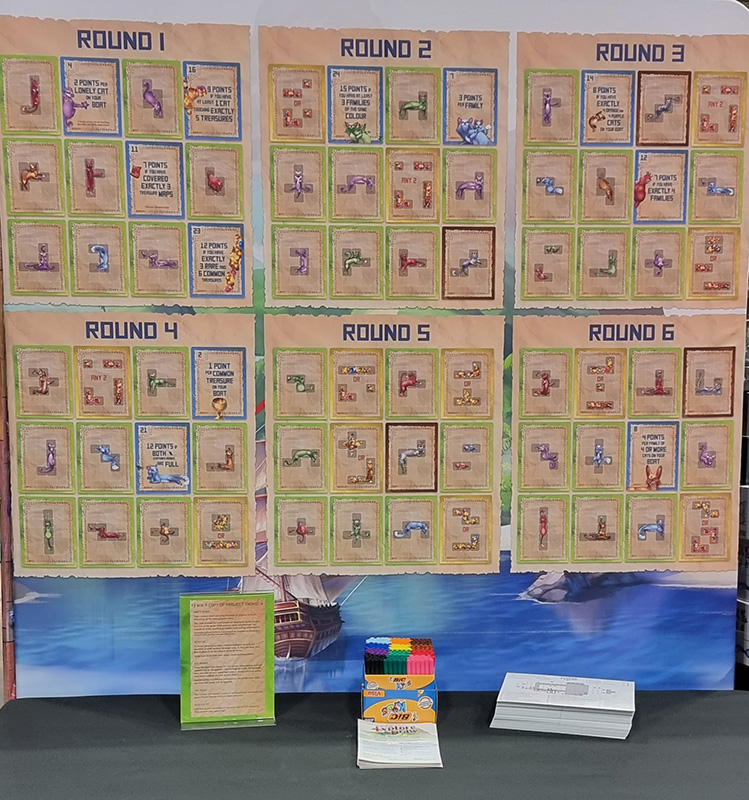 The competition worked better than expected with over 100 submissions by the end of the show and many of those submissions were from groups of people working together. That means, the competition table was played over 100 times, while a normal demo table only sees 1 game every 30 minutes, or 16 games per day.
There were 2 main audiences for the competition table:
People who owned the game and wanted to compete to see if they were the best. Which creates a fun experience for existing community members.
People who wanted to play a full game of Explore & Draw having completed the shorter demo. Which allowed people to further experience the game and make an informed decision about whether it was something they would like to buy.
All 3 ideas proved to be successful, and I believe they were worth the booth space that they occupied. The booth felt unique compared to other booths and strengthened the overall brand by creating fun experiences.
Frank West
Frank West is a gamer and designer based in Bristol, UK. He published his first board game, The City of Kings, in 2018 and now works on other games and organising events in the local area. His goal? To design and publish games focusing on immersive themes, fun mechanics and beautiful components. If you have any questions or would just like a chat, feel free to get in touch at any time!